Please see the attached images regarding positive COVID cases on campus August 20, 23, 24, 2021. The full letter is posted here:
https://5il.co/xra5
#PirateNationTX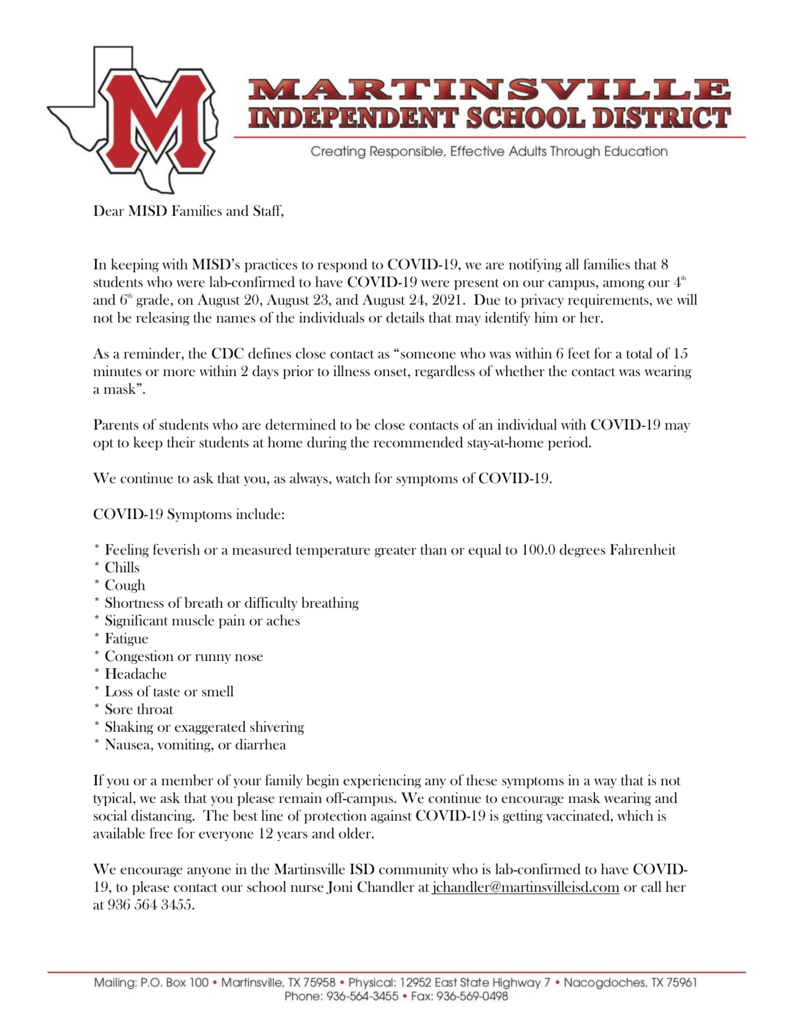 This is a reminder that tomorrow, Friday September 17 is a staff workday and student holiday. #PirateNationTX

Thank you to Mr. Byrd and Mrs. Moody for being our awesome Ag Teachers!! We appreciate you both! #PirateNationTX #TeachAgDay2021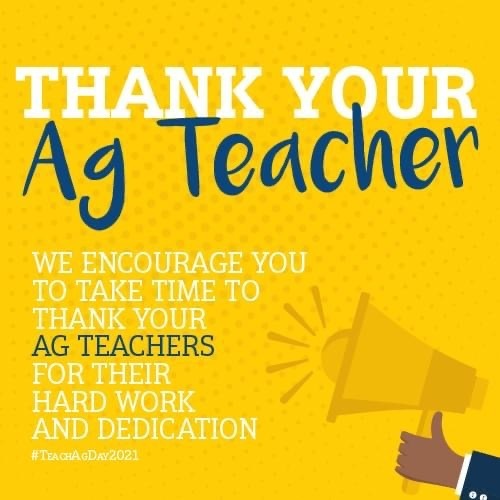 JHBB SCHEDULE UPDATES: The JH Girls will play tomorrow, September 16 in Broaddus at 4:30 PM The games scheduled for October 7 have been moved to October 5. This change is being made to not have a cross country meet and basketball game the same day. #PirateNationTX

Due to mechanical issues with bus transportation, students that live on the North 95 and South 95 route will be riding a Chireno ISD bus the rest of the week. This bus will be driven by the regular Martinsville ISD bus driver. Thank you for your understanding. #PirateNationTX

Please see the attached images regarding a positive COVID case on campus September 8-9, 2021. The full letter is posted here:
https://5il.co/yrjf
#PirateNationTX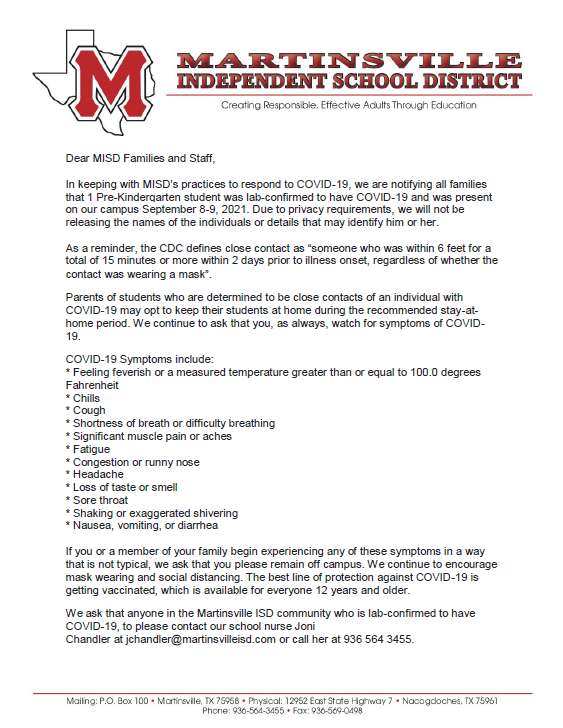 The NFD will be hosting a COVID Vaccine Clinic at MISD for anyone 12+ on 9-17 at 10AM for those needing their 1st or 2nd dose of the Pfizer Vaccine. All students under 18 will need a parent or guardian present. Respond to
JChandler@MartinsvilleISD.com
by 9-15. #PirateNationTX

FCCLA's 1st Blood Drive - Be a Hero! FCCLA will be hosting its first blood drive of the year on Wednesday, September 15, 2021 from 8 AM-2 PM. Full details in the attached photo and the following link:
https://5il.co/yorq
#PirateNationTX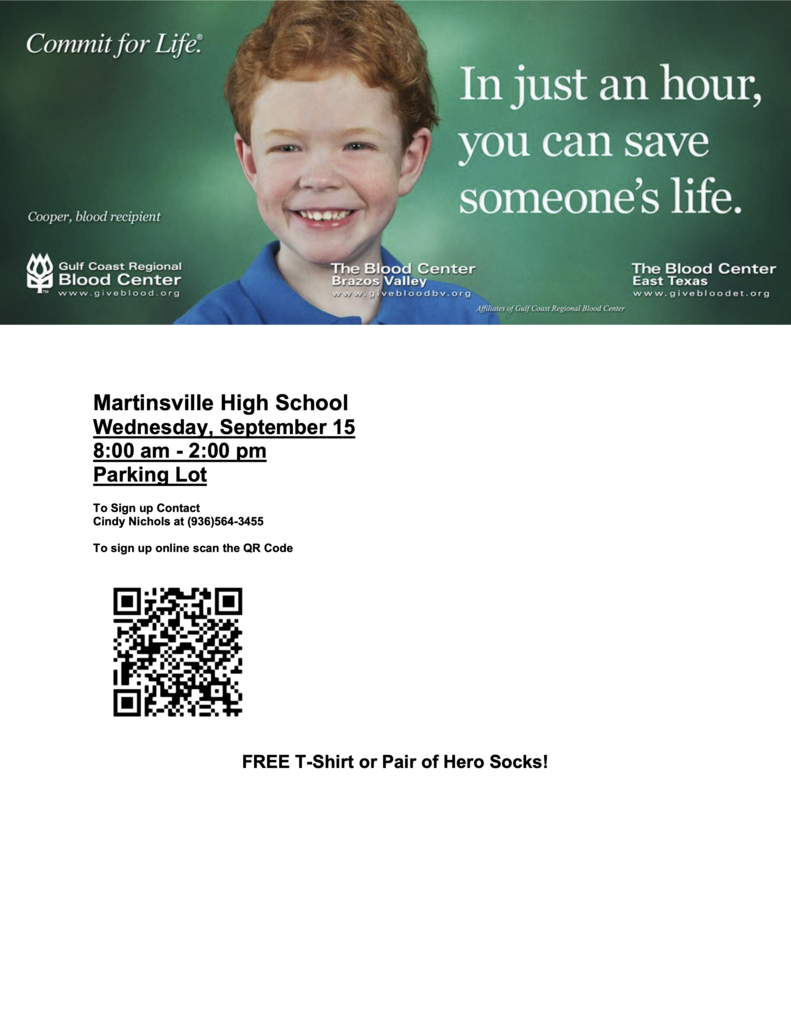 Martinsville ISD has released new guidelines regarding reopening school on Tuesday, September 7, 2021. The guidelines are posted on our website, Live Feed, and our social media accounts.
https://5il.co/yhix
#PirateNationTX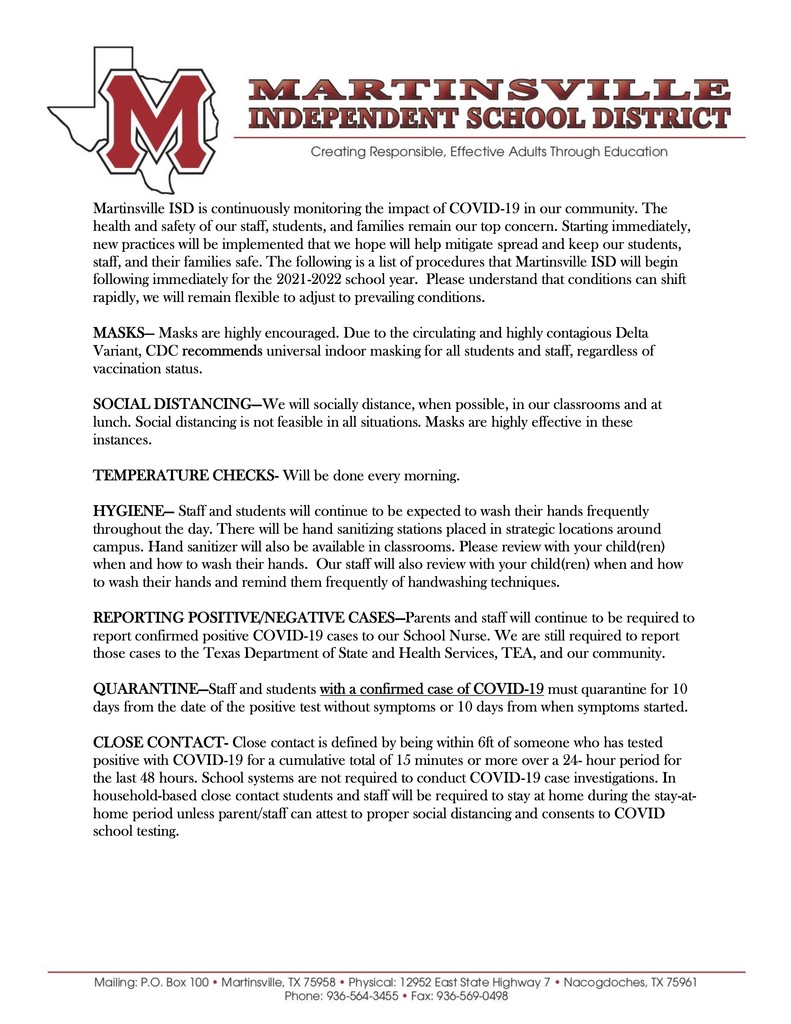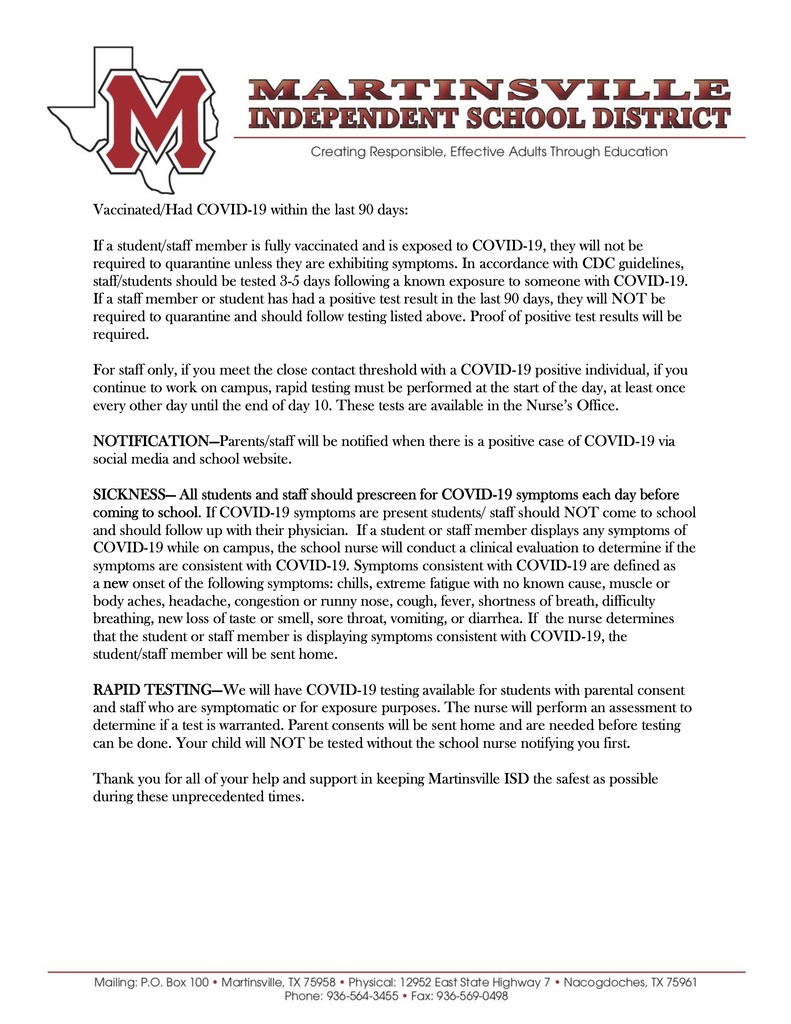 This is a reminder that ALL extra-curricular events and practices are canceled during our closure through September 6. #PirateNationTX

Martinsville ISD to be closed immediately through September 7. Please see the image for full details and new COVID cases on campus. The full letter is posted here:
https://5il.co/xv0j
#PirateNationTX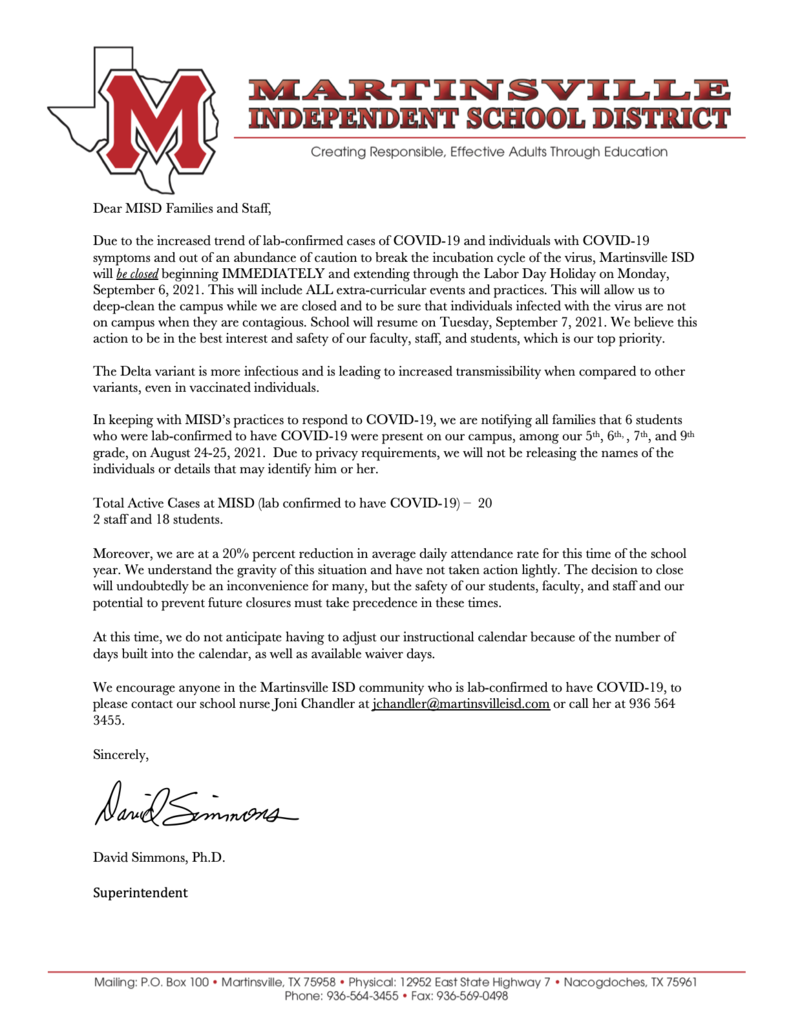 Please see the attached images regarding positive COVID cases on campus August 19-20, 2021. The full letter is posted here:
https://5il.co/xpz2
#PirateNationTX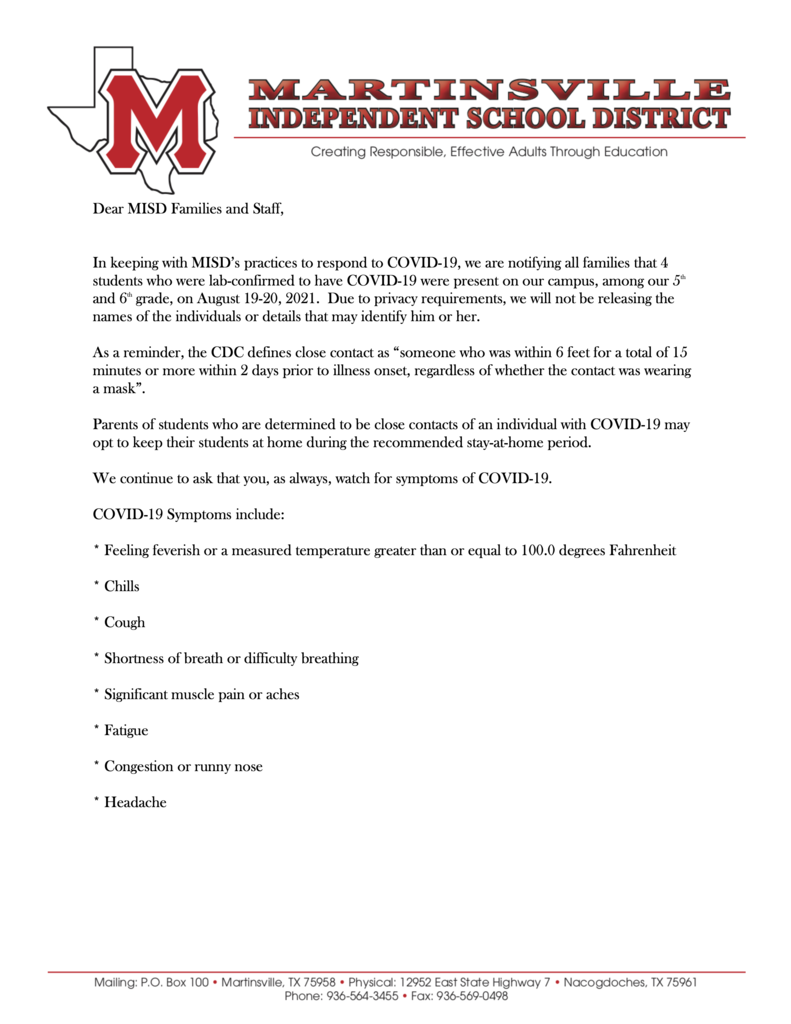 Please see the attached images regarding positive COVID cases on campus August 18-19, 2021. The full letter is posted here:
https://5il.co/xlja
#PirateNationTX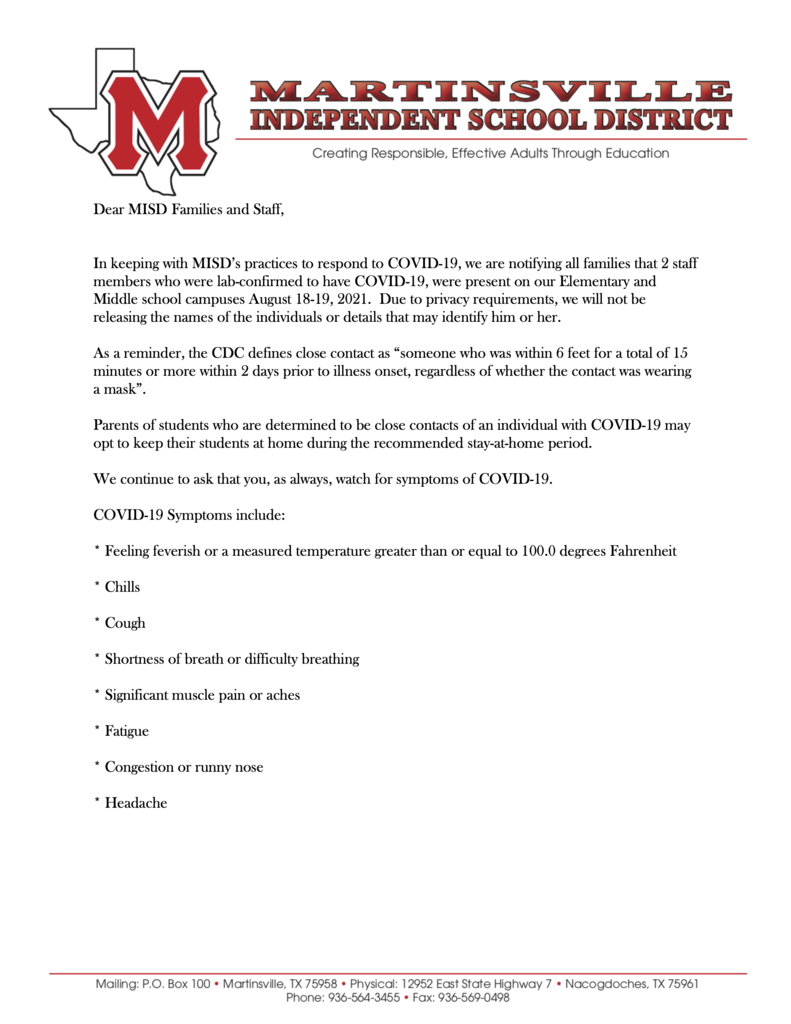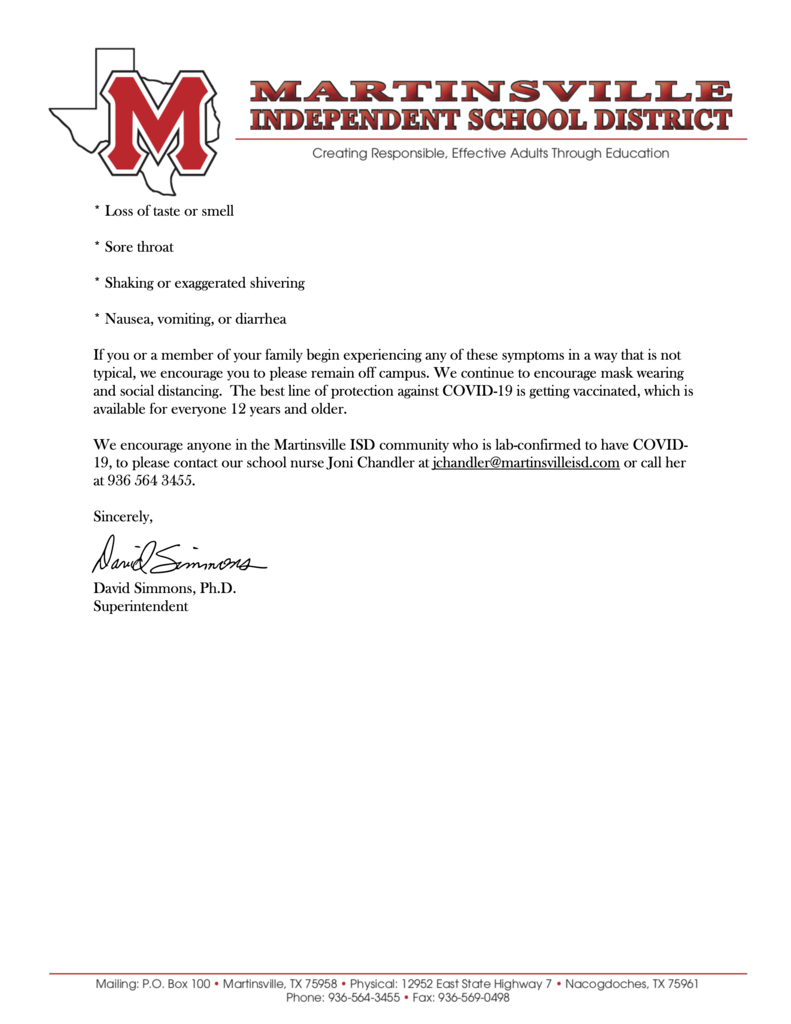 Attention Pirate Nation! #PirateNationTX

Attention Pirate Nation! #PirateNationTX

JH Girls practice is cancelled today and will start back on Monday. #PirateNationTX

Don't forget about Meet The Teacher tomorrow night, 5:00 pm-6:30 pm! See everyone there! #PirateNationTX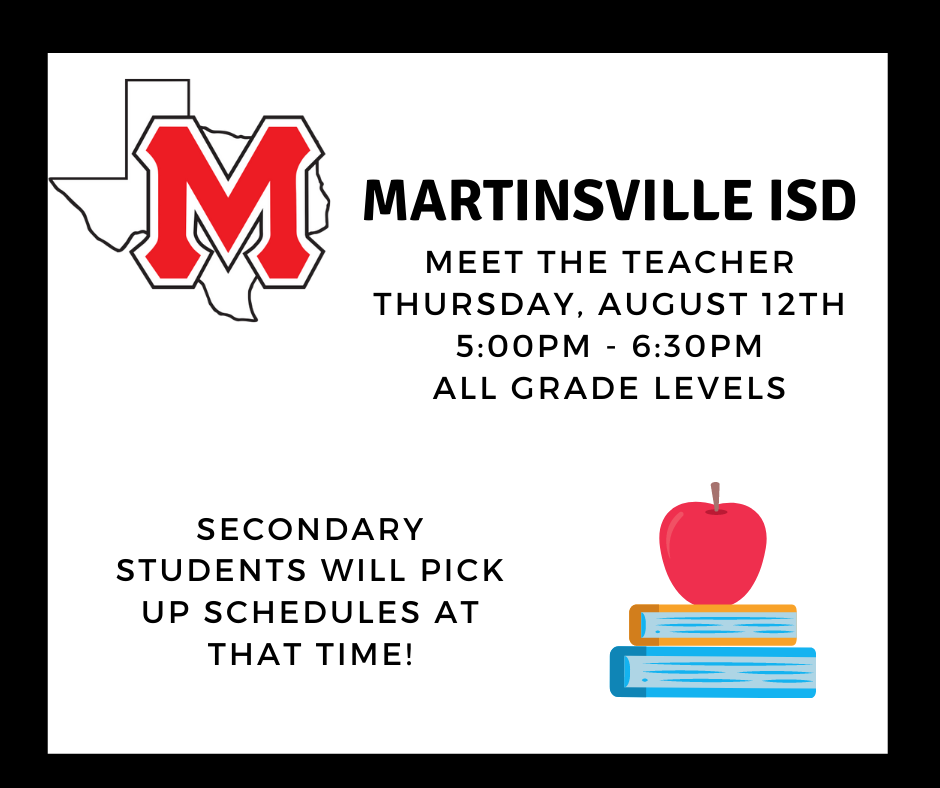 Martinsville Athletics will have a meeting with JH and HS parents and students during Meet the Teacher on Thursday, August 12, 2021 from 6-6:30 PM #PirateNationTX
This week, Monday- Thursday, JH girls ONLY will practice, 3:00-4:30pm! #PirateNationTx

Martinsville ISD will be closed the week of July 5-9 and will have limited staff on campus the weeks of July 12-16 and 19-23. #PirateNationTX