Please see the attached images regarding positive COVID cases on campus August 18-19, 2021. The full letter is posted here:
https://5il.co/xlja
#PirateNationTX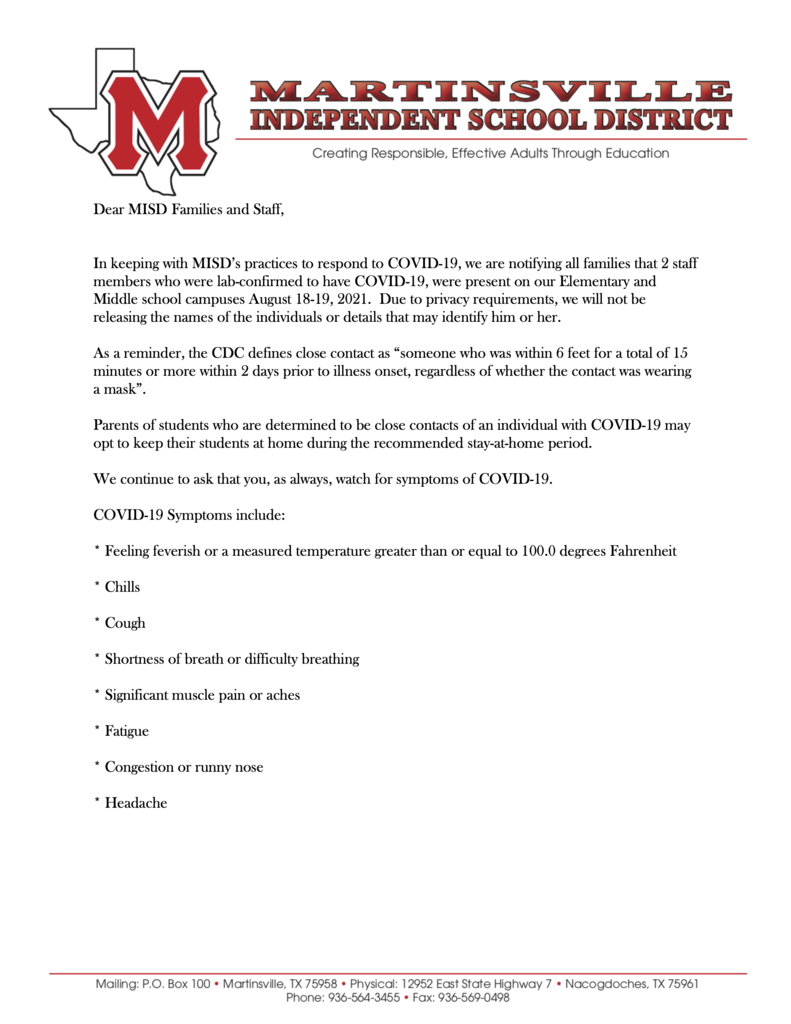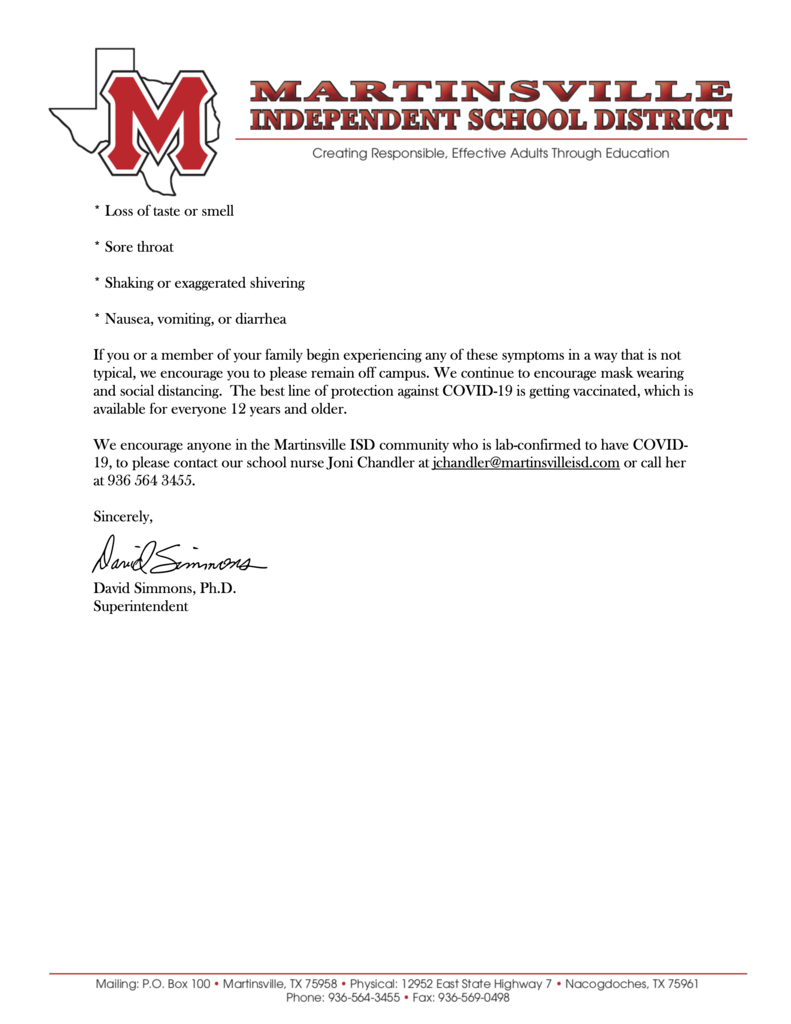 Attention Pirate Nation! #PirateNationTX

Attention Pirate Nation! #PirateNationTX

JH Girls practice is cancelled today and will start back on Monday. #PirateNationTX

Don't forget about Meet The Teacher tomorrow night, 5:00 pm-6:30 pm! See everyone there! #PirateNationTX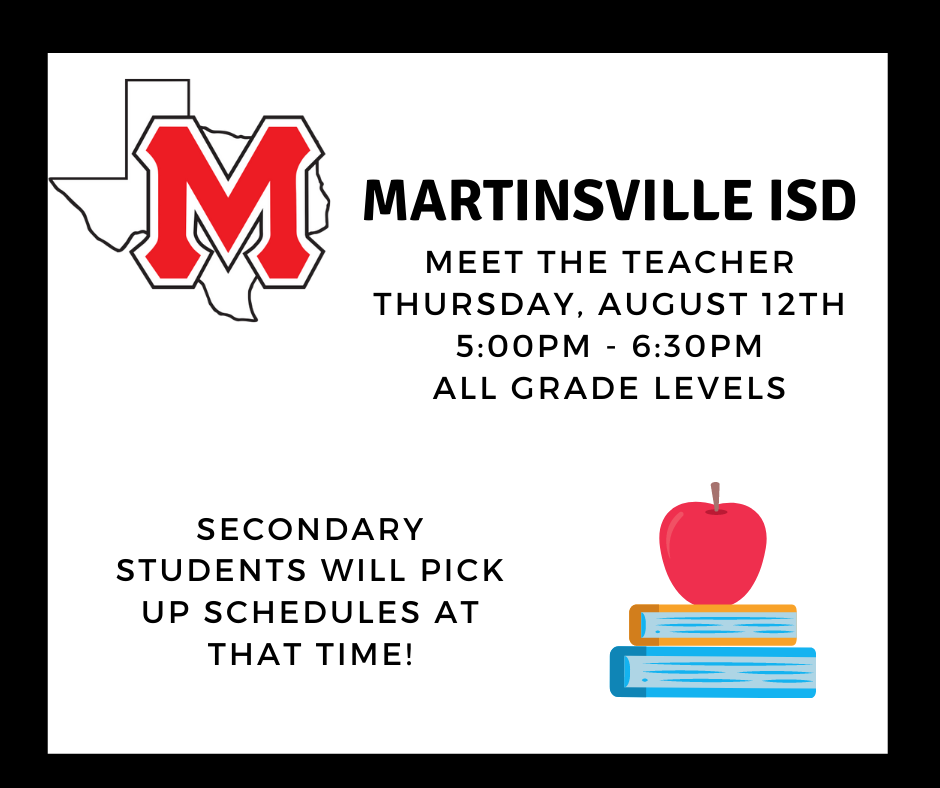 Martinsville Athletics will have a meeting with JH and HS parents and students during Meet the Teacher on Thursday, August 12, 2021 from 6-6:30 PM #PirateNationTX
This week, Monday- Thursday, JH girls ONLY will practice, 3:00-4:30pm! #PirateNationTx

Martinsville ISD will be closed the week of July 5-9 and will have limited staff on campus the weeks of July 12-16 and 19-23. #PirateNationTX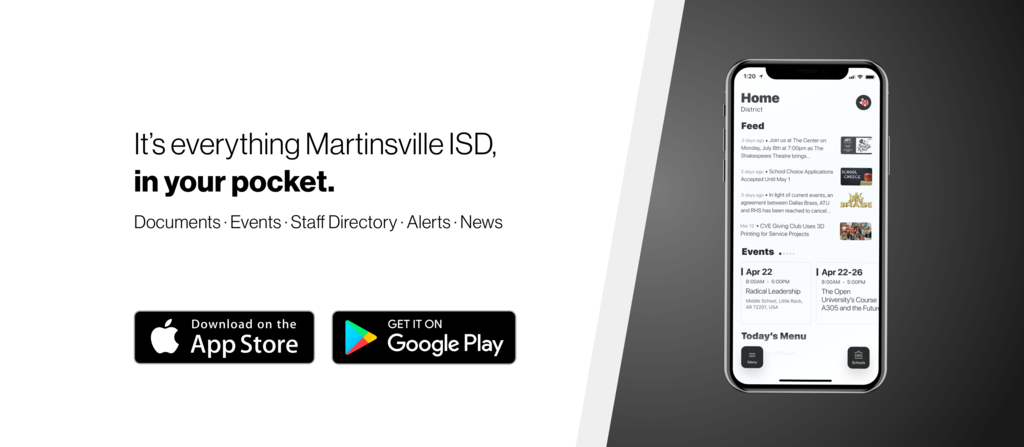 Martinsville ISD is now hiring for several positions: 5/6th Grade ELA Teacher Special Education/ESL Teacher RTI Teacher-Part Time Classroom Aide For full job postings, please visit
https://bit.ly/2UZmIi0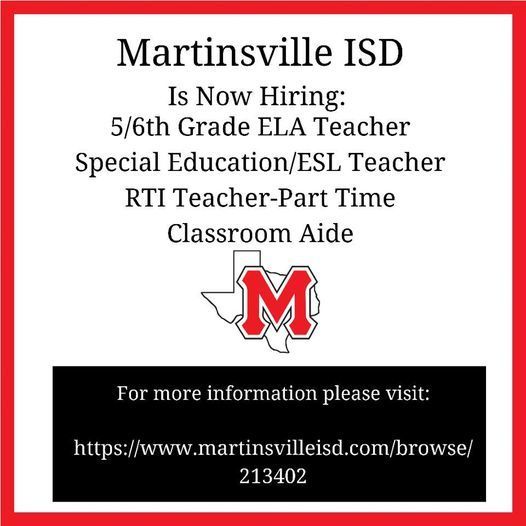 The Martinsville ISD Board of Trustees revised the 2021-2022 school instructional calendar at their June meeting on Thursday June 17, 2021. Highlights of the calendar include an August 16, 2021 first day of school for students, fall break October 4-8, 2021 and winter break February 7-11, 2022, in addition to regular holidays as in years past. The calendar features staff development work days the Friday of the end of each six week grading period to allow for faculty and staff to conclude the grading period more efficiently. The last week of school in May 2022 will feature Kindergarten Graduation on May 24, 2022, 8th Grade Graduation on May 26, 2022, and HS Graduation on May 27, 2022.

In March 2021, the American Rescue Plan Act, also known as the ARP Act, was signed into law, dedicating funds for K-12 schools through the Elementary and Secondary School Education Relief (ESSER) III funds. As a result, MISD is eligible to receive one-time federal funds through the ESSER III program to be spent prior to September 30, 2024 to address expenses and learning loss associated with the COVID-19 pandemic. MISD is seeking input on how to utilize the funds to best meet the needs of MISD students and families. Responses to this survey are due by 11:59 p.m. on June 15, 2021, and will be reviewed for inclusion into the district's ESSER III plan and grant application.
https://martinsvilleisd.formstack.com/forms/martinsville_isd
#PirateNationTX

Parents and Families: The application for P-EBT benefits is now open until Aug. 13. P-EBT provides food benefits to families with eligible children who temporarily lost access to free or reduced-price meals during the 2020–21 school year due to the COVID-19 pandemic. For more information: 💻 hhs.texas.gov/pebt ☎️ 833-442-1255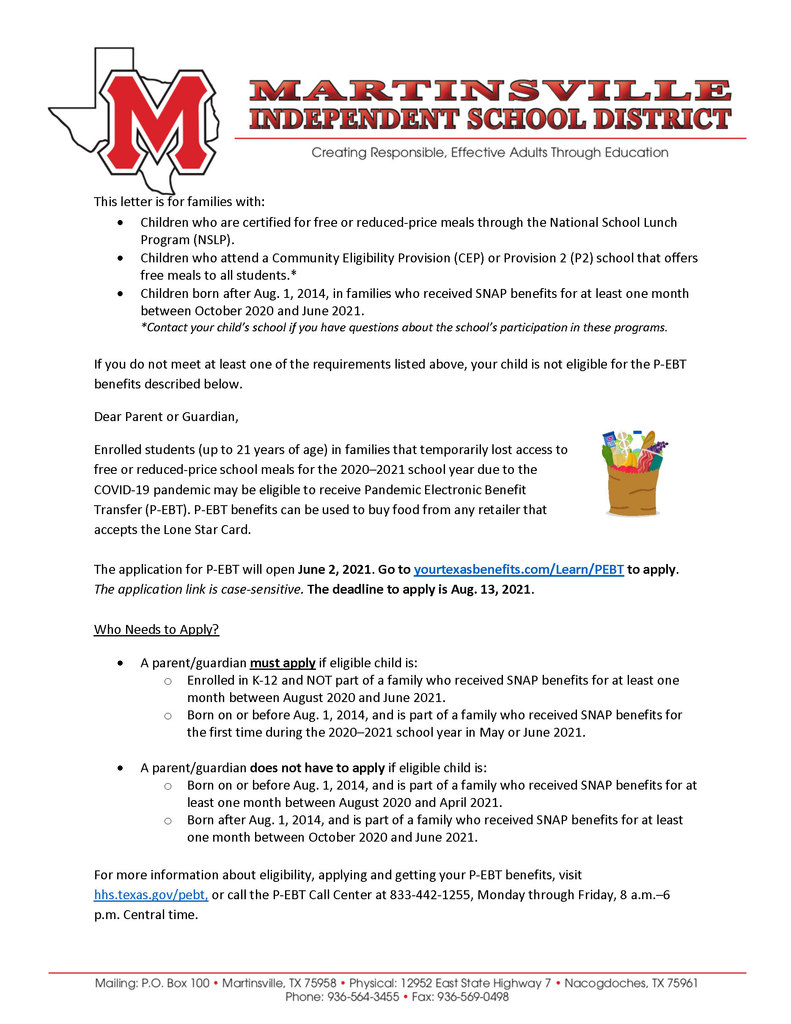 We have revised our schedule for awards ceremonies for this week. They will be on Thursday, May 27 as follows: PreK - 2nd -- 9:00 - 9:30 3rd - 6th -- 9:30 - 10:00 7th - 8th -- 1:00 - 1:30 #PirateNationTX

As we approach the end of the school year, it is time to return district owned Chromebooks, iPads, and hotspots, including chargers. We ask that you get the devices ready with all accessories and have your child(ren) bring them to school on Friday, May 21. #PirateNationTX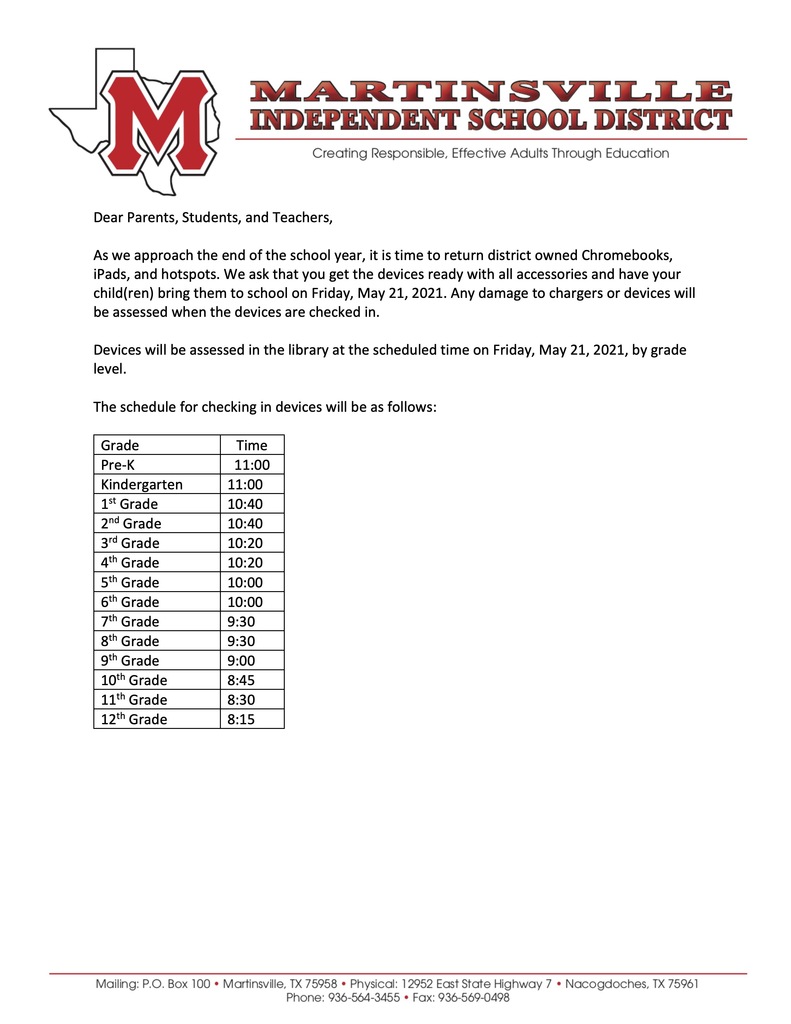 UPDATE TO GUIDELINES: It is graduation time once again at Martinsville ISD! Please see the attached photo for more information regarding our graduation ceremonies! #PirateNationTX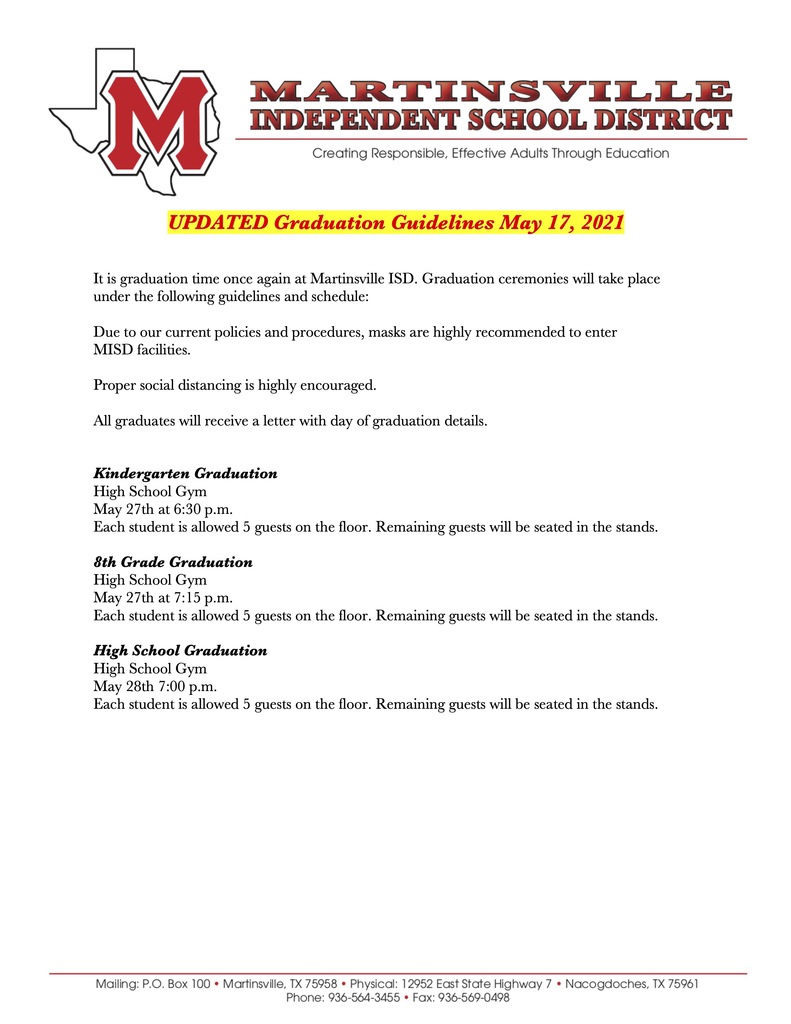 MISD's 5th Grade Classes will be hosting their annual 5th Grade Business Extravaganza tomorrow, Wednesday, May 19, 2021 at 1:00 PM. Please watch the attached promotional video on YouTube!
https://youtu.be/tjKM6F7G5bc
#PirateNationTX

It is graduation time once again at Martinsville ISD! Please see the attached photo for more information regarding our graduation ceremonies! #PirateNationTX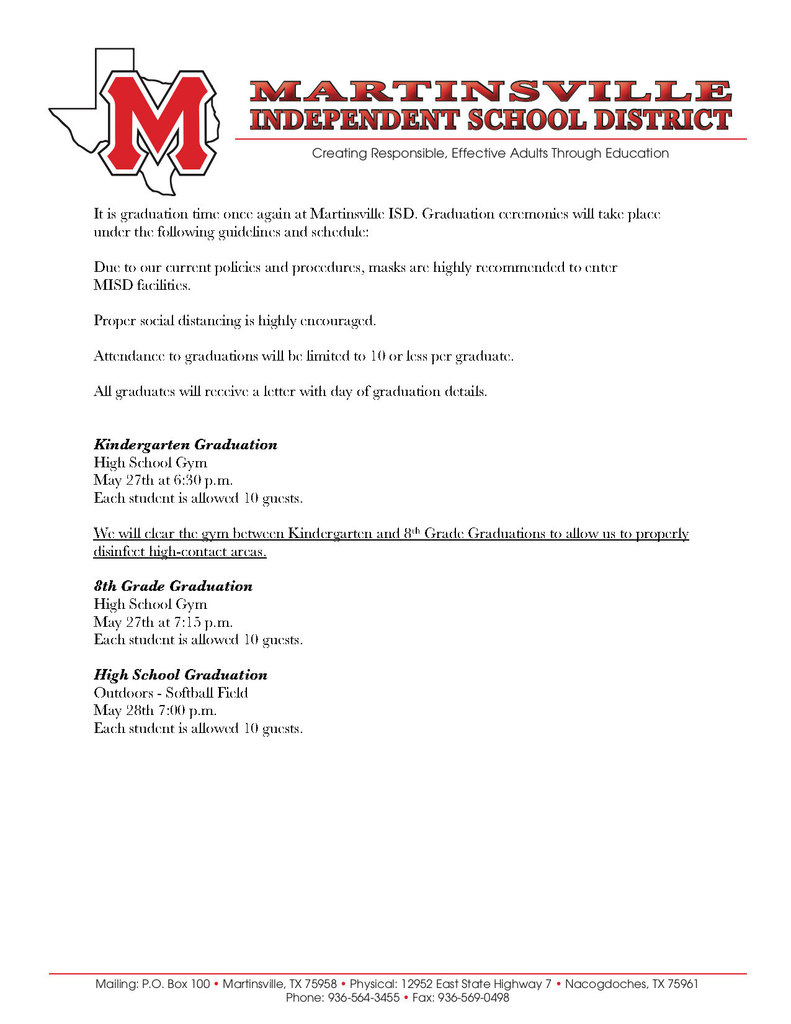 Attention Pirates: Fun Day 2021 is TOMORROW!!! #PirateNationTX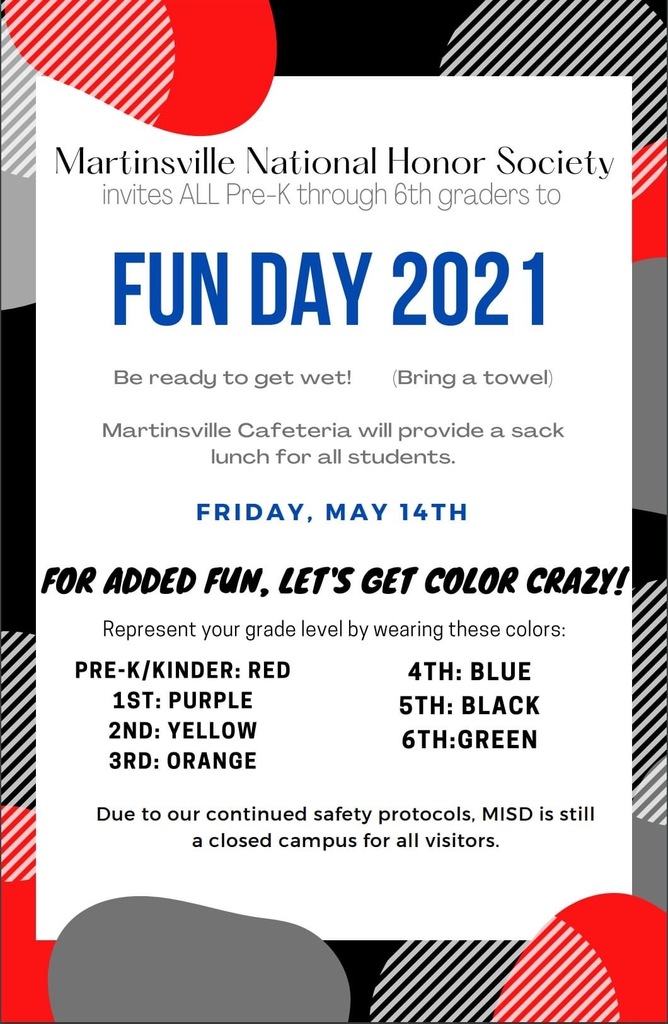 This is a reminder that the 2021 Martinsville ISD Athletics Banquet will be Thursday, May 13, 2021 at 6:30 PM in the main gym. #PirateNationTX